Professional Wall Murals
Professional Indoor/Outdoor Wall Murals Can Be Installed on ANY Surface 
Capture Their Attention with Beautiful Wall Graphics!
These beautiful, SUPER-SIZE, full color graphics can be produced from any image. Attract attention and create long lasting impressions on products or services, turn plain walls into high impact eye catching visuals. All Star uses highest quality 3M Scotchprint™ graphics.
All Star uses 3M Scotchprint™ graphics to produce realistic, full color murals of virtually 
any
 size! Choose either interior or exterior vinyl for 
any
 wall surface.  
TIPS FOR DIY ON SMALLER PROJECTS
HANGING INSTRUCTIONS PASTE THE WALL
Tools you'll need:




Step 1
Your wall mural will be supplied in panels. Lay the panels out in order and leave to rest for at least 5 hours. Make sure that you check over your mural carefully when you open it. Before application, sponge/ spray your prepared wall with water. It is recommended that you work left to right.
Step 2
Create a guideline using a spirit level and tape measure by drawing a straight line vertically, a panel's width in from the edge of the wall. Remember to deduct the measurement of the bleed/extra bit of paper. This will help you guide your panel into place to ensure it's applied straight.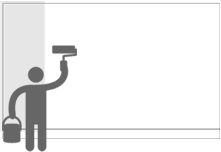 Step 3
Use a medium pile paint roller to apply the supplied paste to the wall, in the area the first panel will be installed. Apply the first panel to the pasted area and try not to squeeze any paste out of the edges. Make sure that you leave any extra bleed at the top, bottom and side for trimming later. Smooth a damp sponge or brush to gently smooth out any wrinkles or bubbles from the top of the panel to the bottom.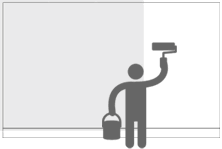 Step 4
Paste the wall before each panel. Apply the second and subsequent panels. Ensure that the pattern or image matches up as each panel is applied. Slide each panel into place, making sure they are edge to edge - without overlapping and without leaving any gaps. Smooth each panel with a damp sponge or brush after each application.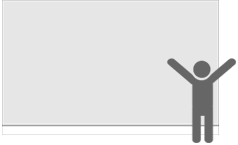 Step 5
When all panels have been installed, carefully trim the top, bottom and far left and right sides of your mural with a sharp blade. Use a damp sponge/brush to remove any excess paste.